Travel Authorisation
Travel Advice for International Students
The latest visa and travel advice from the Malaysian Government
Please read the following notice carefully before applying for your Travel Request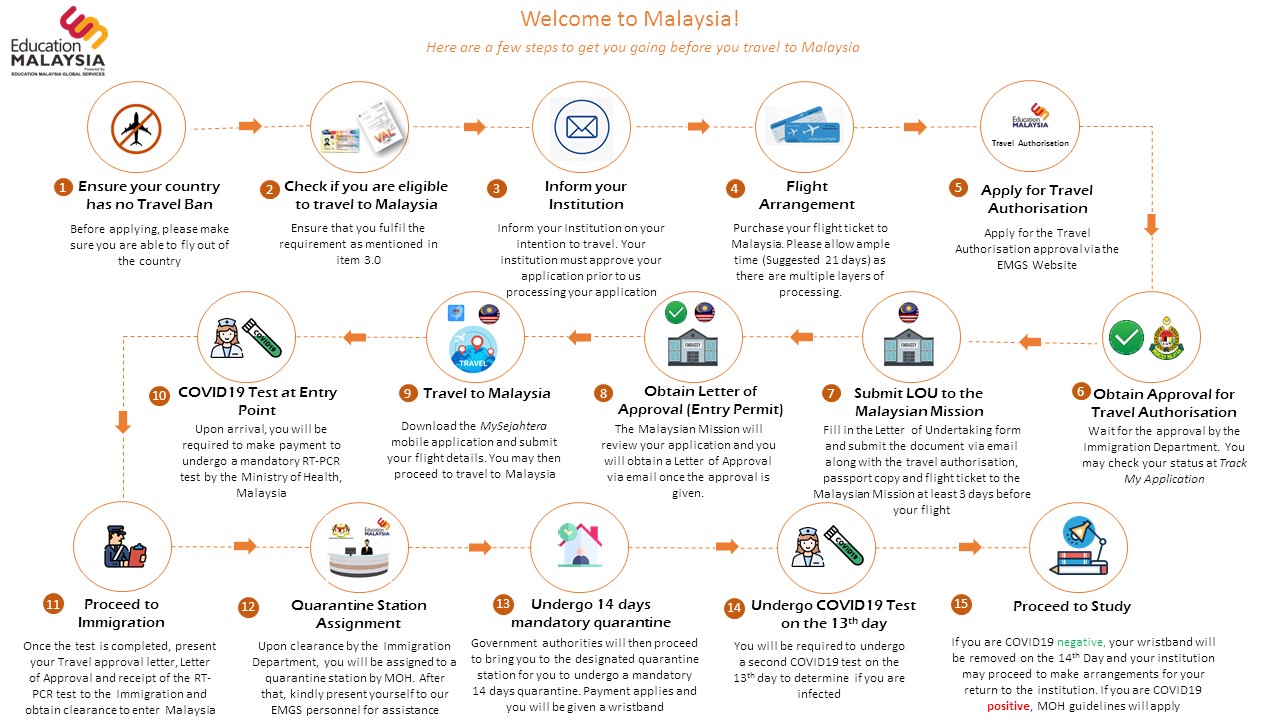 1.0 Notice to international students traveling to Malaysia
The Malaysian Government announced on 8th of July 2020 that International Students attending public universities or private universities may enter the country to resume their studies.
In order to return to Malaysia, all international students are required to obtain an approval by the Malaysian Immigration Department Director General. To obtain the approval, students are required to submit the Travel Authorisation Form. To apply, please ensure that you have registered an account with us.
2.0 What is the Travel Authorisation Form for?
International Students intending to return to Malaysia are required to fill in the Travel Authorisation Form. Your application will be vetted by the Malaysian Immigration Department before you are allowed to travel to Malaysia.
3.0 Who can apply to return to Malaysia?
Student who has a valid student pass
Student who has a student pass that has expired from the 1st of February 2020 onwards.
4.0 What must i do before applying for a Travel Authorisation?
Ensure that your country has not imposed a travel ban.
Ensure that your institution is well aware of your travel intention. Note that prior to us submitting your application to the Malaysian Immigration Department, your institution is first required to approve your application to return to Malaysia.
Ensure that you have made flight arrangements. Please allow ample time (Suggested 21 days) for the processing of your travel authorisation as there are multiple layers of processing involved to determine if you are eligible to travel to Malaysia
Ensure that you have fulfilled the requirement as mentioned under Item 3.0. Failure to adhere to these requirements may result in your application to be rejected.
Ensure that you have downloaded the MySejahtera mobile application. MySejahtera is an application developed by the Government of Malaysia to assist in monitoring COVID-19 outbreak in the country.
5.0 How will I know the status of my Travel Authorisation application?
You may use the Track My Application feature .You are only required to enter your travel document number and nationality in order to obtain the following:

a. Your current Travel Authorisation application status
b. If your application is approved by the Malaysian Immigration Department Director General, you will receive your Travel Authorisation approval letter and if your application is rejected, you will receive the Travel Authorisation rejection letter.

An email notification will also be sent to you once we have received the approval status by the Malaysian Immigration Department.
6.0 What should I do once my Travel Authorisation is approved?
Fill in the Letter of Undertaking which can be obtained from here. Submit this document via email to the Malaysian Mission to obtain a Letter of Approval to travel.Note: You are not required to fill in the 'Child' section.
If your student pass has expired, you may be required to apply for a Single Entry Visa for Social Pass (Depending on your nationality) prior to travelling to Malaysia. Please check with your Malaysian Mission for more information on this matter.
Check with your airline if you are required to undergo a COVID-19 test prior to your departure.
Be very careful with your surroundings. Practice social distancing and good hygiene. Do your best to avoid any occasion that might expose you further to the COVID19 virus.
7.0 What will happen once I arrive in Malaysia?
Upon arrival, you will be carefully escorted by the relevant authorities to the Ministry of Health (MOH)personnel.
You will be required to make a payment of RM250 for to undergo a mandatory RT-PCR test by the Ministry of Health, Malaysia and upon completion, you may proceed to the Immigration Counter for clearance to enter Malaysia.
Once you have obtained clearance from the Immigration Department, you will be assigned to a quarantine station. Our EMGS representatives will be obtaining this information from you to be furnished to your institution.
Government officials will then bring you to the quarantine station assigned to you. During this time, you are required to perform quarantine for 14 days and you will not be allowed to leave the quarantine premises.
On the 13th day, you will undergo an antibody test which will cost RM60. If your result shows as negative, your institution will make travel arrangements for you to return to the institution, however if your result is positive, MOH guidelines will apply.